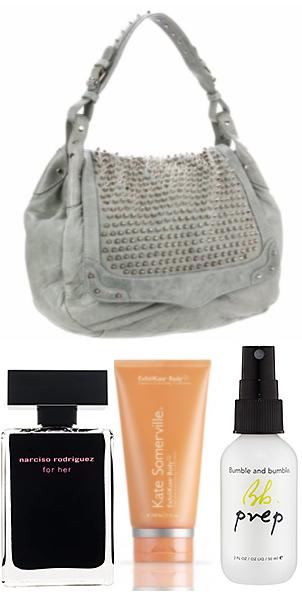 I haven't done One Bag & Three Beauty Obsessions in awhile, BUT it's back.
Bag:
Beauty:
Narciso Rodriguez for Her: My perfume staple since college, this fragrance is a winner EVERY time.  The men love it. Trust.
Kate Somerville Exofilate Body Intensive Exofoliating Treatment: An intensive exfoliating treatment on my face?  Absolutely not.  On my body?  Yes, it's a different ball game.  I love a good body slough and this stuff does it's job.
Bumble & Bumble Prep: Lately I've been all about the prep.  I've been using a makeup primer and now, I'm also into the hair styling prep.  Bumble & Bumble's products are fantastic so I wasn't surprised when I started using and loving this prep product.