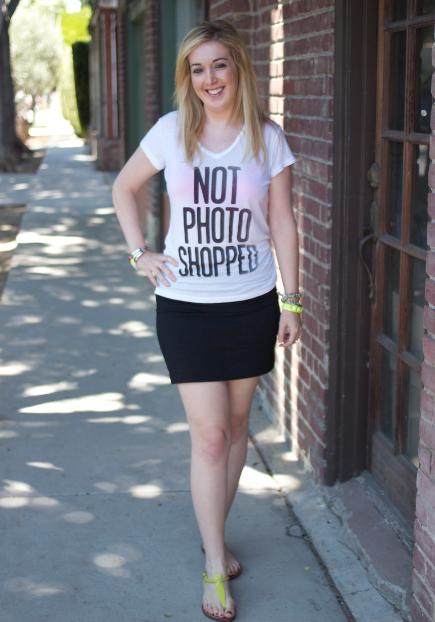 When I was asked to be one of the 28 bloggers participating in this Not Photoshopped campaign with Feel More Better and StyleCaster, I was genuinely excited.  We've all seen and read the tons and tons of press that photoshopped celebs and models have garnered over the past few years, and with the increasing number of eating disorders, especially among teens, I feel passionate about the cause at heart.  As women, we need to teach our children that there is no perfect woman; Barbie isn't real, celebrity x doesn't really have legs that great (unless it's Gwenyth Paltrow!) and lastly, everyone has what they might consider "flaws" but it's our flaws that make us unique and beautiful – I truly believe this.  I've blogged before about my body and how staying thin is a constant struggle for me…but regardess of weight, at 29, I've truly accepted my body shape.  I love the fact that I have curves.  I'm not a 5'11, 100lb. runway model, I'm a 5'6, 135lb. woman.
If you want your own "Not Photo Shopped" tee, you can feel good about your purchase, not only because you're spreading a good message but also because the company donates a new book to an underprivileged girl for every shirt purchased.  And, if you feel really passionate about the cause, you can also sign the Media and Public Health Act, which aims to pass legislation requiring advertising and editorial that meaningfully change the human through photoshopping or airbrushing to carry "Truth in Advertising" labels.
Update: Here's the link to the StyleCaster story!
photo credit: Preston